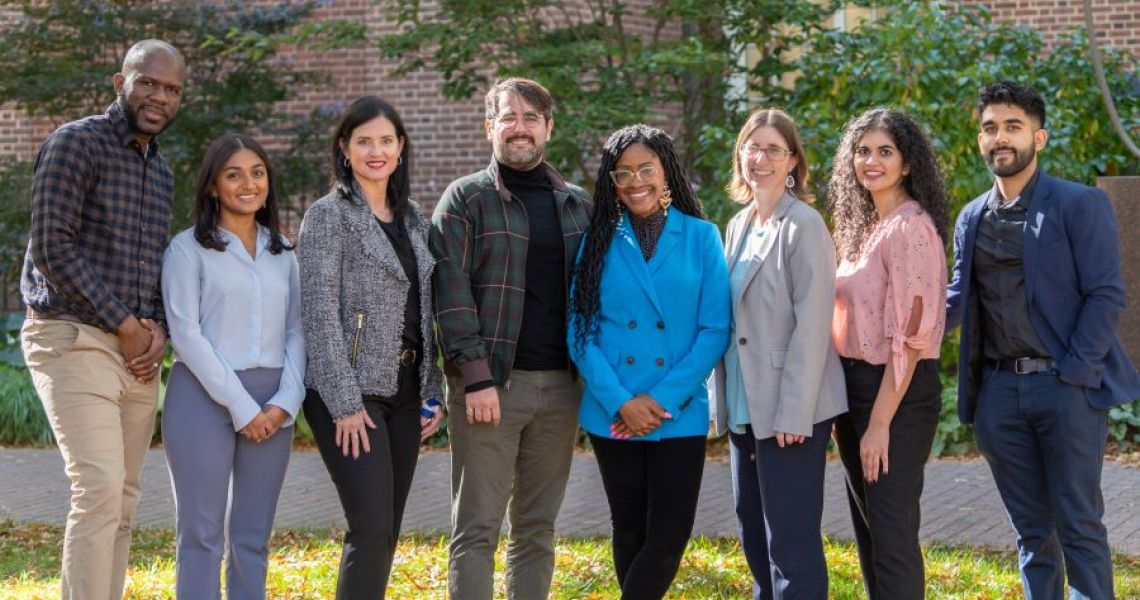 Program Values 

More often than not, structural inequities such as poverty, disinvestment, and discrimination are characterized within public health efforts as issues of personal responsibility. To truly advance the health of BIPOC and LGBTQIA+/Queer communities in equitable, sustainable, and reciprocal ways, the Two in One Model is rooted in the following foundational truths:

Racial and sexual minoritized patients have full lives.
BIPOC and LGBTQIA patients can best speak to their humanity.
BIPOC and LGBTQIA patients are complex and diverse.

What We Do

The Two in One model includes three components: research, training, and social marketing.

Research

We will host patient and provider focus groups and interviews. What we learn from PCPs and patients will be added as course content. Our scoping reviews will also inform two white papers on HIV and COVID policy implications for practice-based changes

Training

The training series will come in two parts: nine live-streamed CME-bearing monthly lectures and an asynchronous CME-bearing module-based training course. The series will culminate in a symposium focused on translating the knowledge gained from the speaker series into policy-based and practice-based action.

Social Marketing

Running concurrently with the training series will include up to five social marketing messages of PCPs talking to other PCPs about how to make nonjudgmental HIV and COVID screening and testing routine. These messages will reflect research-generated themes. The social marketing campaign will target PCPs in practice at predominantly white institutions (PWIs) and historically Black colleges and universities (HBCUs) and PCPs in training at HBCUs.

Audiences

The research will target 20 BIPOC and LGBTQIA+ patients and 20 PCPs who treat them.

The virtual live and asynchronous training will target 10,000 PCPs in training or in practice who work in family practice or internal medicine. Potential clinician types include registered nurses (RNs), nurse practitioners (NPs), physician assistants (PAs), medical doctors (MDs), and/or osteopathic medical doctors (DOs). This also includes the pipeline of health professions students in clinical rotations at HBCUs.

The on-campus policy summit will invite 250 PCPs to learn expert policy implications of the HIV and COVID screening protocols, guidelines, and practices.

Outcomes

We aim to present our research and project evaluation findings at local and national conferences, publish manuscripts and white papers, and disseminate a PCP toolkit of resources and vignettes online. We will also track data analytics of our reach.

Meet Our Team

Maranda C. Ward, EdD, MPH is an Assistant Professor and Director of Equity in the Department of Clinical Research and Leadership at the GW School of Medicine and Health Sciences. She has over 15 years in experience with conducting interviews and focus groups as well as equitably engaging participants in research given her background training and publications on participatory action research (PAR). She is an expert in advancing anti-racism efforts within health sciences education and in designing curricula to enable student and faculty to measurably promote health equity in practice. Her research focuses on stakeholder-engaged community-focused studies among health science career trainees. Dr. Ward serves as Principal Investigator for the Two in One Project.

 View Dr. Ward's Faculty Profile

Paige McDonald, EdD is an Assistant Professor and Vice Chair in the Department of Clinical Research and Leadership at the GW School of Medicine and Health Sciences. She has 20 years of experience in qualitative research and has applied a variety of methods to advance the understanding of learning within health sciences, including phenomenography, phenomenology, basic interpretivist, case study and mixed-methods. She has expertise in designing interview and focus group protocols, observation protocols, and methods for document review based upon emic and etic coding. She is also Director of the George Washington University Health Research and Education Collaboratory which aspires to be recognized as a pre-eminent center for the study of health research and education, producing and disseminating high quality scholarship at the intersection of healthcare, education and research. Dr. McDonald serves as Co-Principal Investigator for the Two in One Project.   

Patrick Corr, EdD, MEd is a Visiting Assistant Professor in the Department of Clinical Research and Leadership at the GW School of Medicine and Health Sciences. He has 10 years of experience in academic medical operations, program development, and qualitative research methods. His research interests are related to nutrition and whole body wellness as well as antiracism in medical and health professions education. He currently serves as the Director of Dual Enrollment for GW SMHS. Dr. Corr serves as a Co-Investigator for the Two in One Model. 

View Dr. Corr's Faculty Profile

Abigail Konopasky, PhD is an Assistant Professor of Medicine for the Center for Health Professions Education at the Uniformed Services University of the Health Sciences (USUHS) and the Henry M. Jackson Foundation for the Advancement of Military Medicine. She has been doing qualitative research for over 20 years, training first as a linguist at Princeton University and then as a research methodologist and educational psychologist at George Mason University. She has designed and carried out qualitative studies using a range of approaches, including case study, grounded theory, critical discourse analysis, and mixed methods. She has published qualitative and mixed methods research in medical education, including methodological pieces on linguistic and narrative analysis. Much of her research centers on the language individuals and institutions use to represent their goals, motivations, and sense of agency, which will be of particular value in this study. Dr. Konopasky serves as a Co-Investigator for the Two in One Model.

View Dr. Konopasky's Faculty Profile

Donaldson Conserve, MS, PhD is an Associate Professor in the Department of Prevention and Community Health in the GW Milken Institute School of Public Health. His research focuses on implementing and disseminating evidence-based HIV and COVID-19 testing, counseling, and linkage to care for prevention and treatment. Dr. Conserve serves as a Co-Investigator for the Two in One Model. 

Sheel Singh, MA '20 is a medical anthropologist by training and Research Program Associate with experience in human subjects studies and translational research in the Department of Health Sciences. She has experience providing support to multicenter clinical trials of individuals with mTBI and concussive injuries, including studies targeted to underrepresented minority populations. She serves as the Project Manager for the Two in One Model.

 

Julia Xavier, BS '21 is a second-year medical student at the George Washington University School of Medicine and Health Sciences who is concentrating in Community and Urban Health. She has previously worked with the CORE HEALTH lab on research related to anti-racism in medical education. Julia is also part of leadership for GW Emergency Medicine Interest Group and GW Healing Clinic, a student-run non-profit. Julia will serve as a student researcher for the Two in One Model.

 

Nikhil Kalita, BS '23 is an undergraduate student at George Washington University concentrating in Pre-medicine and majoring in Public Health. He is also a BS/MPH candidate at the Milken Institute of Public Health concentrating in Epidemiology. He has had some experience in research and developing educational materials for healthcare professionals. Specifically, he published 2 CME-credited modules focused on teaching the significance and methodology of equitable community-based participatory research to physicians of the Children's National Hospital in Washington, D.C. Nikhil will serve as a student researcher for the Two in One Model.

Meet the Impact Team

Linda Cotton is a multimedia producer with experience in instructional design. She is a "Jane of all trades" with experience in photography, video, audio, graphic design, animation and interactive online modules. Linda serves as Senior Instructional Technologist for the Two in One Model. 

 

 

Karen Foote is a Videographer, designer, and tech-minded person who is happy to help. She loves to find creative solutions to educational challenges. Karen serves as Videographer for the Two in One Model. 

 

 

 

Laurie Lyons is an instructional designer and team leader. The strengths profile says her top strength is judgement--Laurie thinks things through from all angles. Analytic, creative, and experienced, she hones in on the needs and goals for each specific person and project. Laurie serves as an Instructional Designer for the Two in One Model.

 

 

Meet the Reis Group

Sharon Reis, Principal Strategy Lead. Sharon is a 25-year veteran of the public relations industry who has long been dedicated to representing top-tier clients in health and healthcare. She has special expertise in messaging, positioning, and marketing. Named one of the top women in public relations by Washington Women in PR, she has worked extensively with medical societies, foundations, and academic institutions on branding, overall communications strategy, thought leadership, and issues management. Before creating The Reis Group, she co-founded GYMR and worked at Fleishman-Hillard. She holds a B.A. in communications from the University of Massachusetts and an M.A. in communications with a concentration in marketing from the University of Hartford. 

Kathleen Petty, MPH, Managing Supervisor, Account Manager. Kathleen leverages her strong writing skills and public health degree to bring ideas into action for her clients' campaigns. She works to elevate her clients as thought leaders in the healthcare industry through strategic message development and positioning in key media outlets. Kathleen has assisted in conducting formative research and detailed environmental scans to develop new branding and messaging for campaigns that align target audiences with our clients' goals. She also works with medical societies and associations to lead science promotion and to enhance communication with members and other stakeholder groups. Kathleen received her MPH in public health from The Ohio State University and her B.A. in communications from American University.

Tiana Ware, Account Coordinator. Tiana has four years of research experience in the healthcare field that focuses on the promotion of mental health and wellness. With her background in healthcare, she uses her skillset to assist with client projects and elevate their national profile. Tiana is passionate about disseminating information that will benefit the health and wellbeing of the public. Tiana holds a B.A. degree in Psychology with a concentration in Diversity and Inclusion from the University of Maryland, Baltimore County.

 

 

 

Meet Our Advisory Board

The Two in One Model Advisory Board 

Members of the Advisory Board provide an active voice in developing research protocols, designing training series, planning the culminating symposium, and identifying community partners to join these events.

Additionally, they provide expertise regarding the following:

HIV and COVID Patient Populations
Primary Care
HBCU Pipeline Programs

BIPOC and LGBTQIA+ Populations
Racial/Health Equity
Student/Trainee Populations

Meet the Board

Donaldson Conserve, MS, PhD, is an Associate Professor in the Department of Prevention and Community Health in the GW Milken Institute School of Public Health. His research focuses on implementing and disseminating evidence-based HIV and COVID-19 testing, counseling, and linkage to care for prevention and treatment. Dr. Conserve serves as a Co-Investigator and Advisory Board Chair for the Two in One Model. 

 

Leah Alexander, PhD, MPH, is an assistant professor at the School of Graduate Studies and Research at Meharry Medical College in Nashville, Tennessee. Dr. Alexander specifically works within the Division of Public Health Practice. She attended the illustrious HBCU, Spelman College for her undergraduate degree. Following her graduation, she earned her MPH in health behavior from the University of Alabama at Birmingham. After her successful completion, Dr. Alexander went back to UAB to earn her PhD in Health Education and Promotion. As an avid proponent of community-engaged research, Dr. Alexander carries this passion into her work. She's currently working on a project focused on HIV prevention among African American women. She also has some projects related to health promotion with interactive technology and theory based intervention development.

Robert A. Berenson, MD, is an Institute fellow at the Urban Institute. He is an expert in health care policy, concentrating in Medicare, provider payment, and provider market consolidation. Dr. Berenson has co-authored over a hundred publications related to his specialty. Dr. Berenson is a board certified internist who practiced for 12 years in Washington DC. In the Carter administration, he served as an assistant director of the White House Domestic Policy staff. He was also an initial member of the Physician-Focused Payment Model Technical Advisory Committee created by the CHIP reauthorization Act of 2015. Dr. Berenson is currently an adjunct professor at the Milken Institute School of Public Health at The George Washington University.

Kevin Chung, MD is a primary care internal medicine resident at George Washington University. After his undergraduate education at Pomona College, he spent his gap years working at a domestic violence shelter and recovery program before completing his medical degree at the University of Washington. Throughout his medical training he has been involved in anti-racism work and health equity initiatives. His career interests include primary care, health equity, addiction medicine, and HIV medicine. He plans on working as a primary care physician in an underserved setting while engaging in community health work that improves the lives of his patients.

Annette Gadegbeku, MD, is Associate Dean of Community Health at Drexel University College of Medicine and an Associate Professor in the Department of Family, Community & Preventive Medicine and Chief of the Division of Community Health. She is involved in education through curricular support and training in diversity, inclusion and anti-racism. She engages students and faculty in health equity–related scholarship and service and collaborates on community stakeholders' events. Dr. Gadegbeku has a passion for underserved, marginalized, vulnerable, and at-risk populations with a focus in harm reduction.  She works to provide and promote opportunities for community partnership, as well as inter-professional community engagement, education, and community-based participatory research across all schools, colleges, and departments within Drexel University

Krista Highland, PhD, is the Deputy Director of Science at the Defense and Veterans Center for Integrative Pain Management. Dr. Highland also works as a research associate professor at Uniformed Services University of the Health Sciences in Maryland. Dr. Highland received her bachelor degree in Biology and Psychology at Black Hills State University, before heading to the University of Nebraska-Lincoln to earn her MA in Clinical Psychology. Dr. Highland completed her rotations in rehabilitation psychology at the University of Washington's Trauma Center. Once completed, Dr. Highland headed back to the University of Nebraska-Lincoln to receive her PhD in Clinical Psychology. Dr. Highland is a licensed practitioner of Clinical Psychology in the state of Maryland.

Krista Jones, DNP, RN, PHNA-BC, is Director of the UIC College of Nursing's Urbana Regional Campus and a Clinical Associate Professor in the Department of Population Health Nursing Science. Dr. Jones is a board certified Advanced Public Health Nurse. Her research interests include the development, implementation and evaluation of interventions to reduce risky sexual health behaviors, nursing workforce issues, and strategies to enhance the delivery of nursing and interprofessional education (IPE). Dr. Jones has held several leadership positions in local, regional and national nursing and public health organizations including President of the ACHNE, Chair of the Illinois Nursing Workforce Center, and President of the Champaign County Board of Health. Currently, she is expanding this work nationally to multiple disciplines encompassing all health professionals.

     Dominic Mack, MD, MBA, is a Professor of Family Medicine at Morehouse School of Medicine (MSM) and serves as Director of the National Center for Primary Care (NCPC). Dominic leads NCPC's promotion of health equity and population health through the development of strategies to further research, innovations and trainings that advance primary care systems. He is the Principal Investigator (PI) and Director of the National COVID-19 Resiliency Network (NCRN), an Office of Minority Health cooperative agreement with MSM. Dr. Mack also serves as PI on several other domestic and global federally funded grants and cooperative agreements including HRSA's Zambia MSM/HBCU Collaborative, implementing telemedicine services in District Level Hospitals in the Lusaka Health District. Dominic has practiced in Georgia for many years and strives to develop national and local partnerships in rural and urban communities to implement equitable and sustainable community-engaged/community-based interventions to achieve better health outcomes for all people.

Leon McCrea, MD, MPH, is the Senior Associate Dean of Diversity, Equity & Inclusion at Drexel University College of Medicine. Dr. McCrea is currently an associate professor in the department of Family, Community and Preventive Medicine and offers his time as a resource for anti racism training. Dr. McCrea also works with admissions and various student body affairs in order to ensure the best practices for diversity, equity and inclusion in medicine. Earning his human biology degree at Brown University, Dr. McCrea did his MD and MPH from the University of Pittsburgh. He specialized in family medicine at Crozer-Keystone Health System, later going on to become the associate program director for their residency program.

Katitia Pitts, MS, is the CEO of Marketing Consulting Firm, Perisseuo Group, Ms. Pitts earned her bachelor's degree in management at National-Louis University. She later went on to receive her MS in Divinity at Howard University, followed by an MS in Nonprofit Management at Eastern University. Ms. Pitts started her career as a Sergeant in the United States Army and served in Active Duty. After the army, Ms. Pitts worked at the Department of State as an Office Specialist. She later headed to the US Army Reserve In the capacity of Captain. Ms. Pitts joined Calvary Healthcare in 2010 as their Executive Director prior to starting her own LLC, Perisseuo Group, where she's the standing CEO. 

Brittany Wilbourn, PhD, is an Epidemiologist in the Strategic Information Division of the HIV/AIDS, Hepatitis, STD, TB Administration at DC Health. She is the Molecular HIV Surveillance Cluster Detection and Response Coordinator and the DC Health Principal Investigator of the National HIV Behavioral Surveillance project. Her interests include infectious disease epidemiology (especially HIV, STIs, Viral Hepatitis, and COVID-19); racial, sexual, and gender minority populations; and health disparities, health equity, and community resilience. She holds a PhD in Translational Health Sciences from The George Washington University School of Medicine and Health Sciences, a MPH in Epidemiology from Tulane University School of Public Health and Tropical Medicine, and a BS in Human Biology, Health and Society from Cornell University.  

 

 

Now Hiring

GW SMHS's Two in One: HIV + COVID Screening and Testing Model is recruiting a part-time (30 hrs/wk) Research Program Administrator.

The Research Program Administrator focuses on providing research program support and post-award management. Under the direction of the principal investigator, this position will oversee and administer activities associated with training and education, project planning, development of educational activities, and ensuring pre-established research activities and regulatory requirements are followed. This position often maintains fiscal responsibility, as well as coordination and outreach to research teams and community stakeholders, in order to assist in maintaining standard operational efficiencies. This position supports required reporting and regulatory processes, and participates in dissemination of program outcomes. This position makes recommendations to policy and procedure. This position manages day-to-day operations to ensure research success.

Minimum Qualifications: Qualified candidates will hold a BA/BS in a related discipline. Degree must be conferred by the start date of the position.

Interested applicants should email a Resume/CV and Cover Letter to twoinone@gwu.edu.

View the PDF for information on specific duties and qualifications.